Fungi in your future | Dynamic and growth in our organization

Mushroom Industry Directory News
GLOBAL News
Fungi in your future

The humble Fungi will play a big role in our future! Check out this interesting movie on our platform.

We welcome Ten Cate Geo Synthetics to our advertiser club

The world's population consumes an enormous amount of mushrooms each day. To meet this demand, highly efficient and hygienic production methods are required to deliver quality mushrooms on-time. Ten Cate Industrial Fabrics produces mushroom and composting nets & covers (pulling nets).
Check out their interesting movie on our platform.

Dynamic and growth in our organization Mushroom Industry Directory

Last year we have relaunched this platform Mushroom Industry Directory and a lot has happened since then! We are about to make some exciting changes to further improve the position of our beloved Mushroom.

CEMBN News


Various mushrooms attract the eyeballs of foreigners
At present, Shanghai Xingxiu Specialized Mushroom Cooperative is greeting a group of foreign tourists.
Located in Shanyang Town, Jinshan District of Shanghai City, Shanghai Xingxiu Specialized Mushroom Cooperative is a demonstration base of new variety managed by Shanghai Academy of Agricultural Sciences.

Black fungus industry leads the internationalized trend
In Sandao Mushroom Cooperativ,e which situates in Shangzhi City, Harbin, Heilongjiang Province of China, Black fungi are showing desirable growth trend after a few days they are going to enter into France, Australia, America and Canada. By 2018, the estimated annual output capacity on Black fungus reaches 50 million bags.

EVENT IN THE SPOTLIGHT

WoodFungi Conference 2018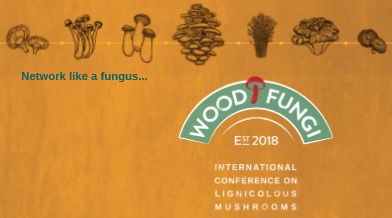 WoodFungi Conference June 3rd to 6th 2018 is approaching! The first ever event in Europe on the cultivation of lignicolous fungi.
WoodFungi will be truly a growers to growers' conference. We are hosting a diverse group of speakers willing to share their experience with colleagues and offering pragmatic advice. Expect cutting edge technology in wood fungi cultivation.

Read more

----------------------

For more detailed information about this event and other interesting events and also courses, please check
our website.

Join Mushroom Matter!

We are growing and a lot of improvements are up and coming. If you are interested in joining Mushroom Matter and would like to become an appreciated advertiser? Please see our offers via this link.





Our appreciated advertisers

Mush. Comb. B.V., The Netherlands
Champfood International, The Netherlands
Lambert Spawn Europa B.V., The Netherlands
AEM BV, The Netherlands
Mycelia, Belgium
Ten Cate Geosynthetics, The Netherlands

Contact

MID News
Eindstraat 46
5801 CR Venray
The Netherlands


Follow us on: